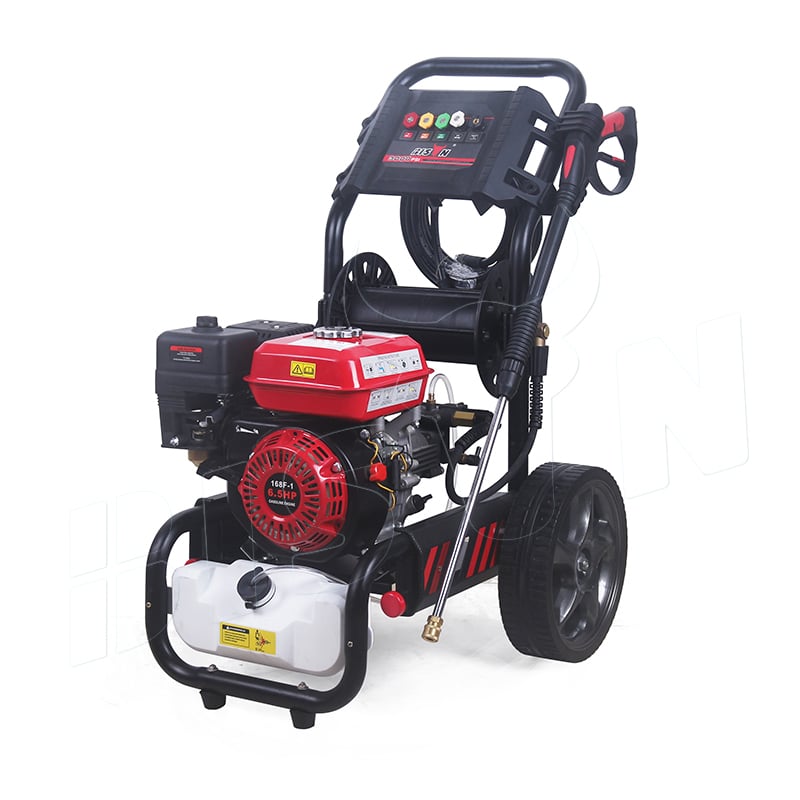 170K 180K 2021 nowy model myjki benzynowej.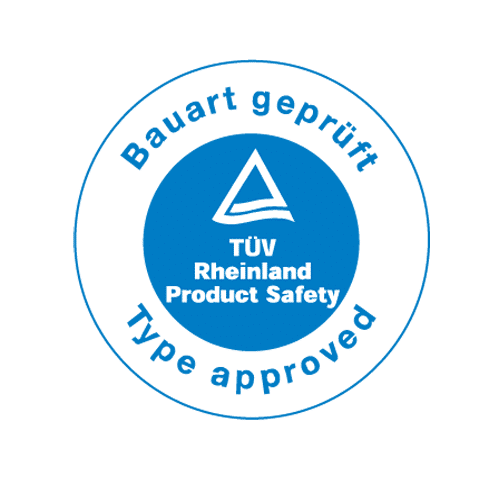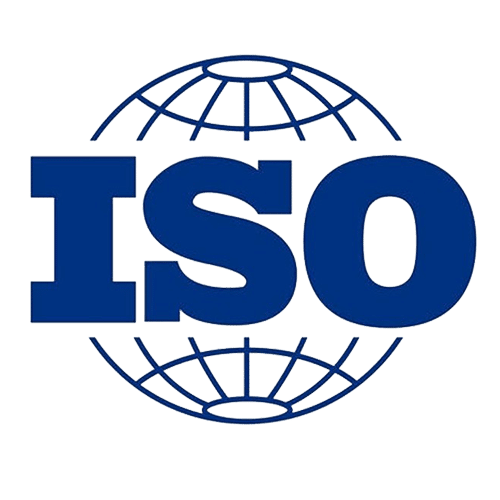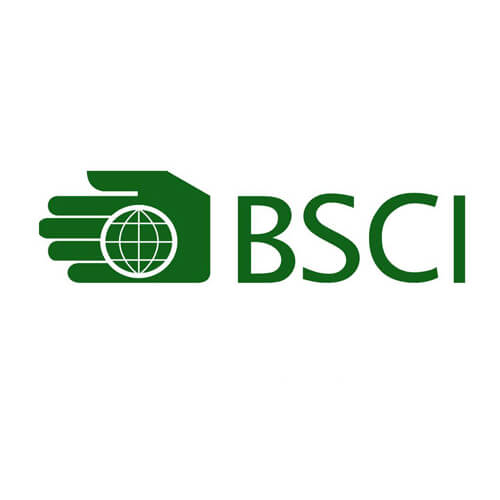 2800PSI Gasoline Power Washer Details
WHY choose BISON?
BISON have more than 200 employees and two 10,000 square feet of factory space to ensure your orders are completed efficiently.
 As a 5-year gold medal supplier of Alibaba, BISON controls the delivery time within 30 days to ensure that your project progresses smoothly.
A full range of product information and support is available on our website, including all pictures, videos and manuals to give you a more detailed understanding.
BISON BS-170K – 2800 PSI gasoline pressure washer is an impressive high-performance cleaning equipment that can solve your most stubborn cleaning problems. It provides a flow rate of 9 liters per minute (LPM) and is equipped with a powerful 7HP engine to ensure sustained and efficient performance. This pressure washer has an engine displacement of 210cc and a rotation speed of 3600 RPM, which shows its power and can provide you with an eye-popping 2800 PSI of cleaning power.
BS-170K adopts high-quality OEM axial cam pump technology, which has excellent performance and long service life. This pump is acclaimed for its superior efficiency, giving you a consistent and powerful cleaning experience. In addition, BISON has strong OEM capabilities and can customize the high-pressure cleaning machine according to your specific business needs, thereby enhancing its market appeal and functionality.
Founded in 2015, BISON is a modern gasoline pressure washer factory in China integrating design, manufacturing, wholesale and direct sales. We provide a full range of services from design to delivery and are committed to providing you with high-quality cleaning solutions. At the same time, through 7 years of development, we have continued to participate in different exhibitions to improve product quality and service levels.
For customers, peers and users, the BISON BS-170K – 2800 PSI gasoline pressure washer is a powerful, efficient and reliable cleaning solution. Whether you need to clean grease from a factory kitchen or dirt from your car, our equipment can get the job done right. Don't hesitate, choose BISON BS-170K to experience the convenience and high performance you deserve.

| | | |
| --- | --- | --- |
| Model  | BS170K | BS180K |
| Continuous/Max Bar | 154/170 | 164/180 |
| Continuous/Max PSI | 2200/2500 | 2400/2600 |
| LPM | 9 | 9 |
| GPM | 2.4 | 2.4 |
| Type | 168F-1 6.5HP | 170F 7.0HP |
| Displacement | 196cc | 210cc |
| RPM | 3400 | 3400 |
| Pump Type | BS-P170 Aluminum Pump | BS-P180 Brass Pump |
| Lance | G02 | G02 |
| Dysza | 5 nozzles | 5 nozzles |
| High Pressure Hose Length | 20M with Hose Reel | 20M with Hose Reel |
| Inlet Hose | 2.0M | 2.0M |
| Gross Weight | 35kg | 36kg |
| Dimens | 730*450*535mm | 730*450*535mm |
2800PSI Gasoline Power Washer Applications
Gasoline pressure washers are considered powerful and versatile cleaning tools that can be used in a wide range of applications, from cleaning of heavy equipment to driveway and sidewalk cleaning. Its excellent cleaning ability makes it widely used in many industries and fields such as construction, mining, agriculture, transportation, logistics, property management, etc.
Here is a detailed description of common gasoline pressure washers applications :
Heavy Equipment Cleaning: Gasoline pressure washers are ideal for cleaning heavy machinery and equipment in the construction, mining and agricultural sectors. They effectively remove dirt, grease and grime from vehicles, excavators, tractors and more.
Construction cleanup: Gasoline pressure washers can quickly clean construction equipment, tools and surfaces, removing large amounts of gravel, concrete splatter and dirt.
Building Exterior Cleaning: Gasoline pressure washers are used to clean building exteriors, walls, roofs and other exterior surfaces, effectively removing dirt, mold and other contaminants.
Fleet maintenance: Transportation companies and logistics providers use gasoline pressure washers to clean fleets of trucks, buses and other vehicles to remove road grime, grease and oil stains.
Driveway and Sidewalk Cleaning: Homeowners and commercial property managers use gasoline pressure washers to clean driveways, sidewalks, and parking lots to remove oil stains, algae, moss, and dirt buildup.
Graffiti removal: Gasoline pressure washers can effectively remove graffiti from various surfaces, such as walls, fences, public spaces, etc. They can use specialized cleaners to deal with more stubborn graffiti.
Farm Equipment Cleaning: Farm and agricultural operations use pressure washers to clean tractors, harvesters and other equipment, helping to maintain equipment efficiency and extend its life.
Deck and Patio Cleaning: Gasoline pressure washers are used to clean wooden decks, patios and outdoor furniture to remove dirt, grime and weathering.
Warehouse and Industrial Facility Cleaning: Gasoline pressure washers are used to clean floors, walls and equipment in warehouses, factories and manufacturing plants, helping to maintain a safe and hygienic work environment.
Ship Cleaning: Marinas and shipyards use gasoline pressure washers to clean hulls, decks and other ship equipment to remove algae, barnacles and saltwater residue.
Czyszczenie dachów: Gasoline pressure washers are used to remove dirt, moss and algae from roofs, helping to prevent water damage and extend the life of roofing materials.
Sidewalk and Street Cleaning: Municipalities use gasoline pressure washers to clean sidewalks, sidewalks, and streets to help maintain a clean, safe urban environment.
Emergency Cleanup: Gasoline pressure washers are often used in disaster relief and emergency response situations to clean up after floods, storms, and other natural disasters.
These applications demonstrate the versatility and effectiveness of gasoline pressure washers across a variety of industries and sectors, making them an essential tool for many professional and residential cleaning needs.
SKONTAKTUJ SIĘ Z NAMI, ABY DOWIEDZIEĆ SIĘ WIĘCEJ O MYJCE CIŚNIENIOWEJ BISON
Najczęściej zadawane pytania dotyczące myjek ciśnieniowych BISON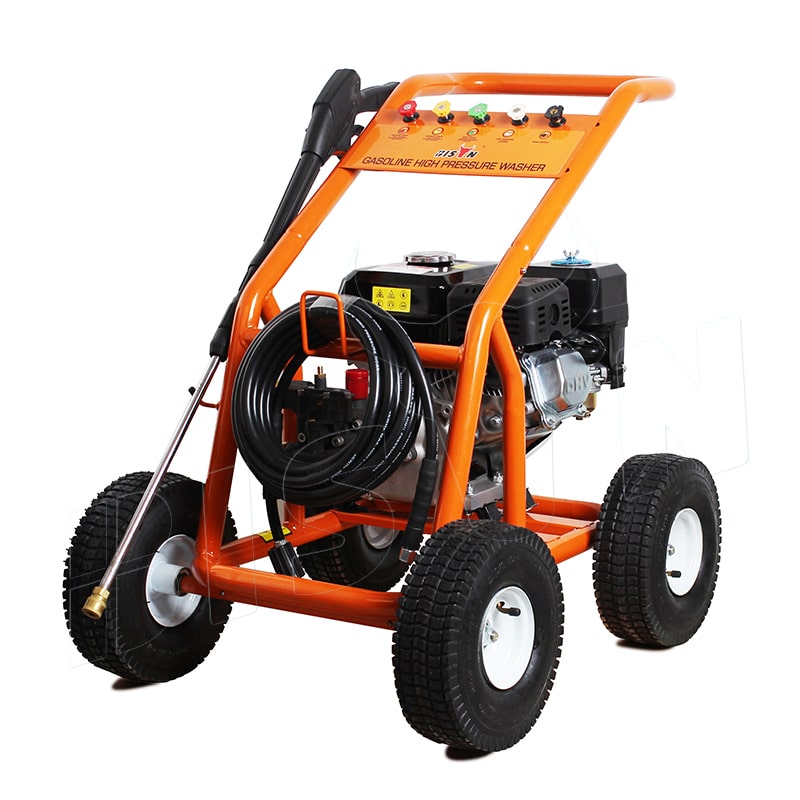 Myjka wysokociśnieniowa z silnikiem benzynowym 2900PSI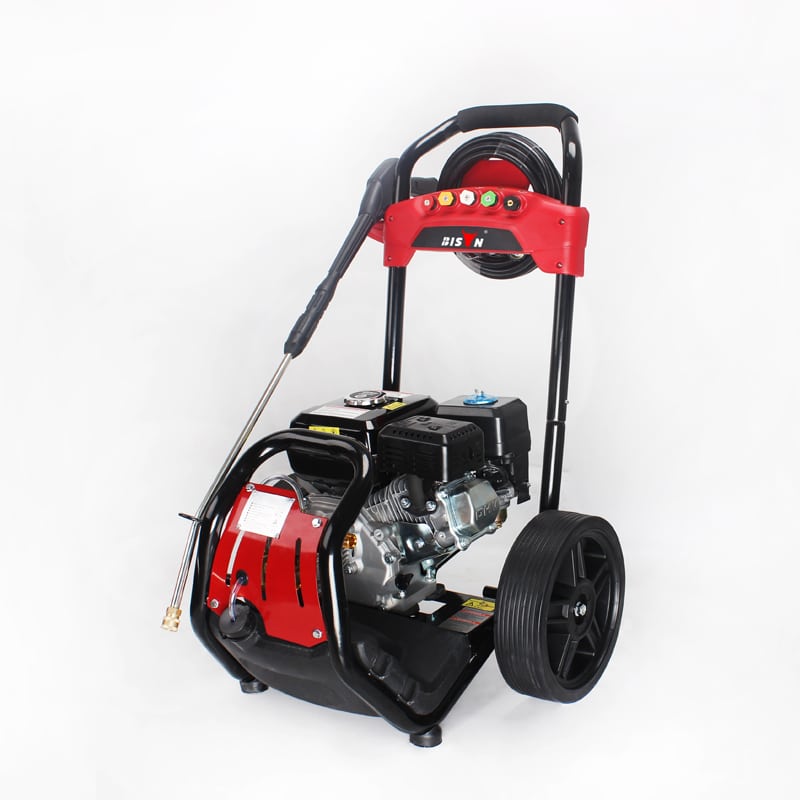 Myjka wysokociśnieniowa 220 bar z pompą Jet Wash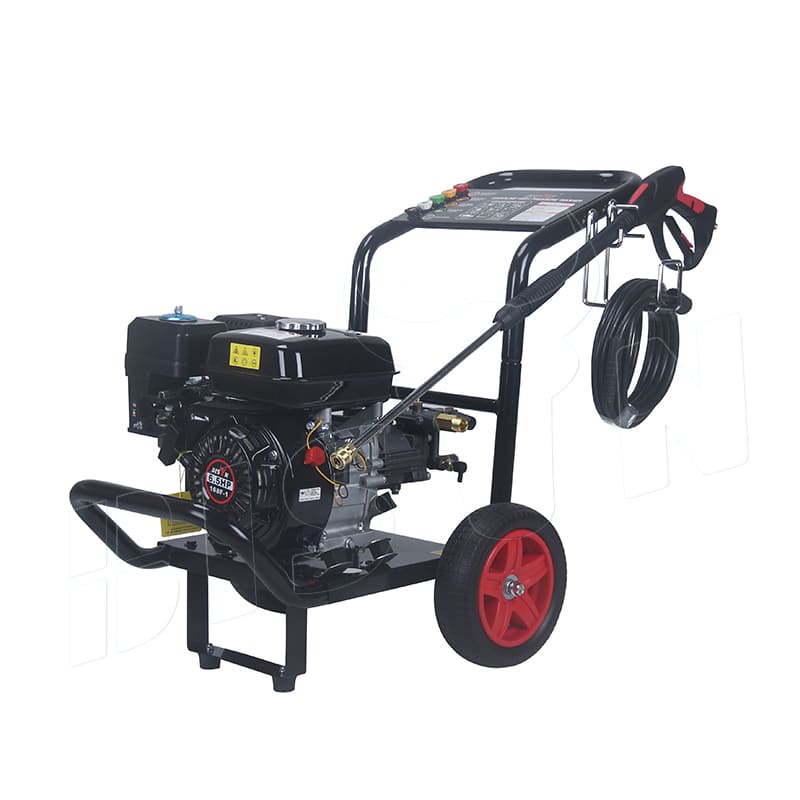 Myjka ciśnieniowa z silnikiem benzynowym o mocy 6,5 KM i ciśnieniu 2200PSI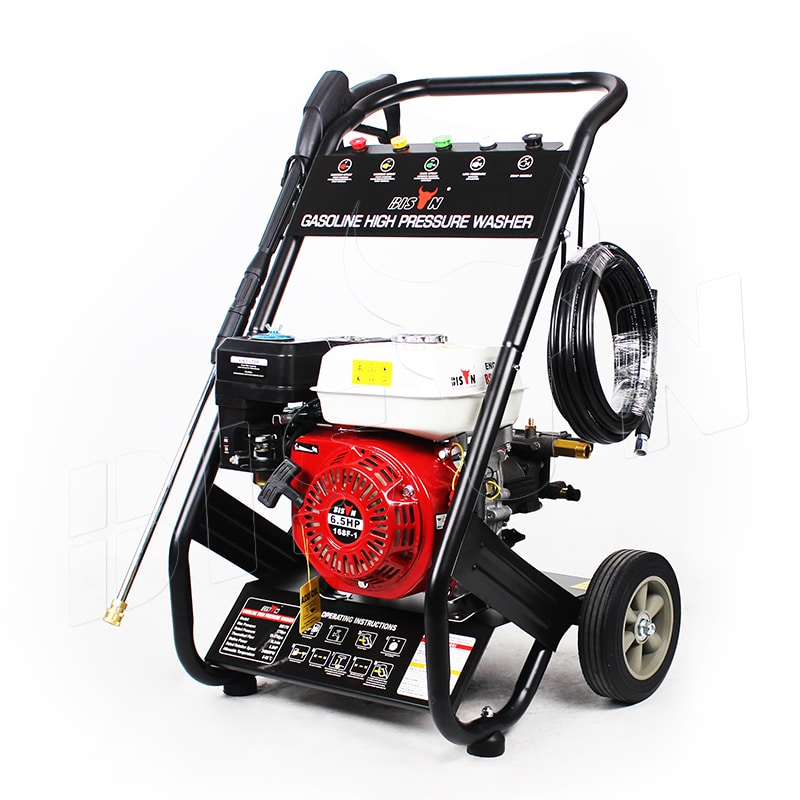 Myjnia benzynowa Max 2600PSI 6,5HP