Bison Pressure Washer Hose Reel
High Pressure Washer Hose Reel
BISON Pressure Washer Hose Reel is a sturdy, reliable solution for pressure washing applications, equipment cleaning, agriculture and marine use and more.Heavy-gauge steel construction with a powder-coated finish delivers maximum protection.
Bison Machinery is one of the leading manufacture of pressure washer, sewer /drain jetting machine, high pressure pump and functional pressure washer accessories, with CE, Rohs, Euro5 certificated and patents more than 30. All metal parts are processed by precision processing equipment, and each one will be 100% inspected before leaving the factory.
Contact BISON immediately to send a wholesale request. We will help you choose the best power washer surface cleane according to your needs. In addition, we also provide pictures, PDFs, videos, etc. to help you expand your business.
Manual Hose Reel by BISON
* The reel is of all carbon steel in integrated forming with thermal dry power spraying, equipped with handle and rotary locking device.
* Reel's strongly sealing rotary joint ensures its minimum loss at fluid pressure and flow.
* The reel fits most carts and includes a mounting bracket. This hose reel is made of solid steel with a durable powder-coat finish and full float brass swivel outlet. It can be used with either a 3/8″ MPT hose or female metric hose.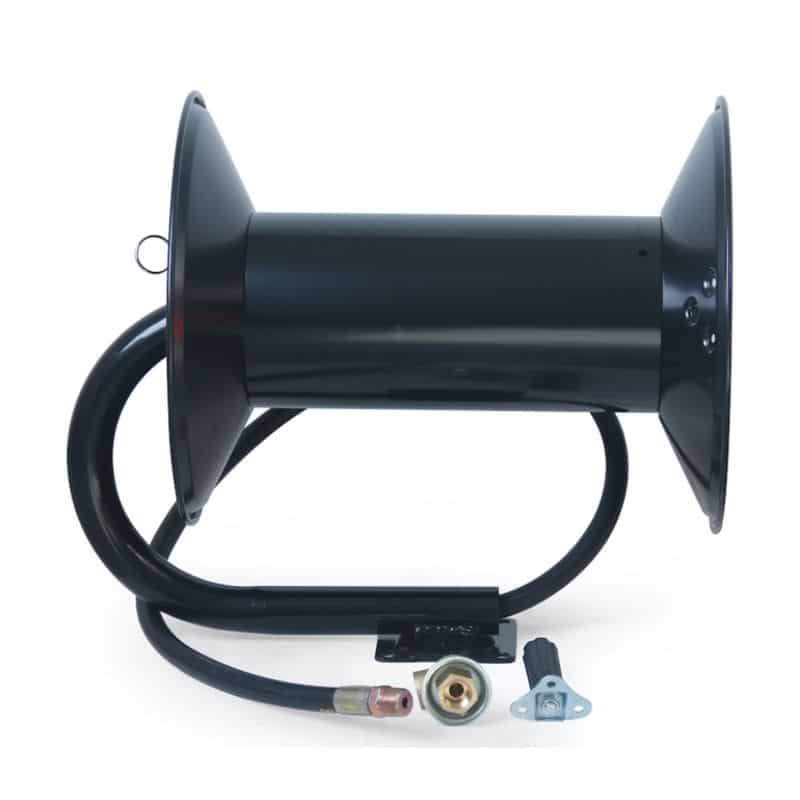 4000 PSI Pressure Washer Hose Reel
| | |
| --- | --- |
| Max Pressure: | 4000psi |
| Max Flow Rate: | 10.5 GPM |
| Max Temperature: | 300° F |
| Inlet: | 3/8" Male |
| Outlet: | 3/8" Female |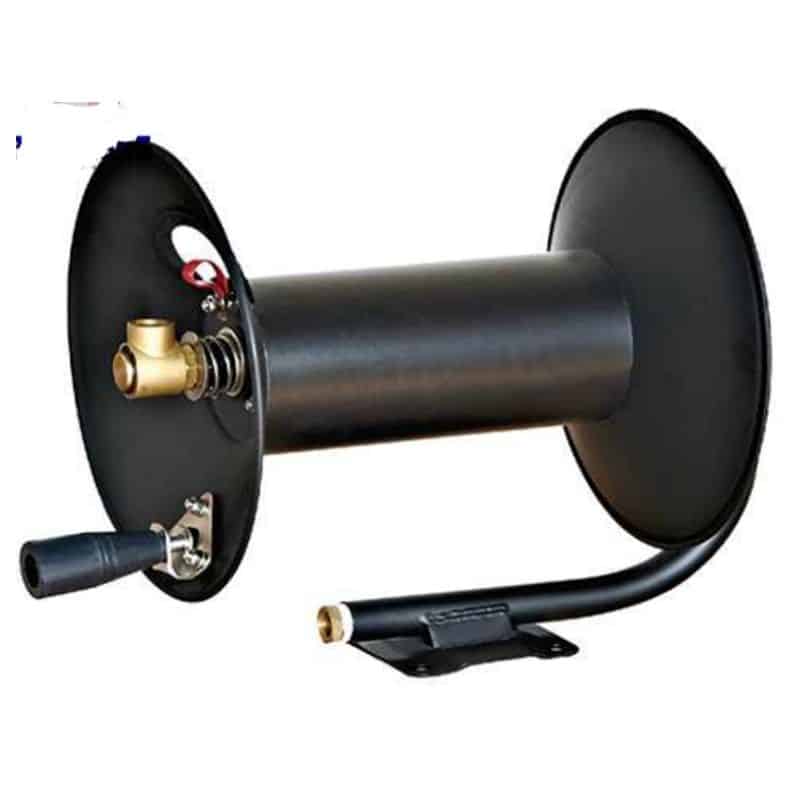 4000 PSI Pressure Wash Hose Reel
| | |
| --- | --- |
| Max Pressure: | 4000psi |
| Max Flow Rate: | 10.5 GPM |
| Max Temperature: | 300° F |
| Inlet: | 3/8" Male |
| Outlet: | 3/8" Female |
Self Rewind High Pressure Hose Reel by BISON
* All carbon steel in integrated forming, high strength without deformation.
* Steel drum with a black powder-coat finish for long-lasting performance.
* Pre-drilled mounting bracket for attaching to pressure washer cart.
* Brass swivel with internal stainless-steel stem prevents hose tangling and resists rust and corrosion.
*Key-ring style drum lock pin prevents excess hose unravel.
* Special material of spring, with strong resilience and high toughness, ensuring its coiling force does not decline for long-term usage.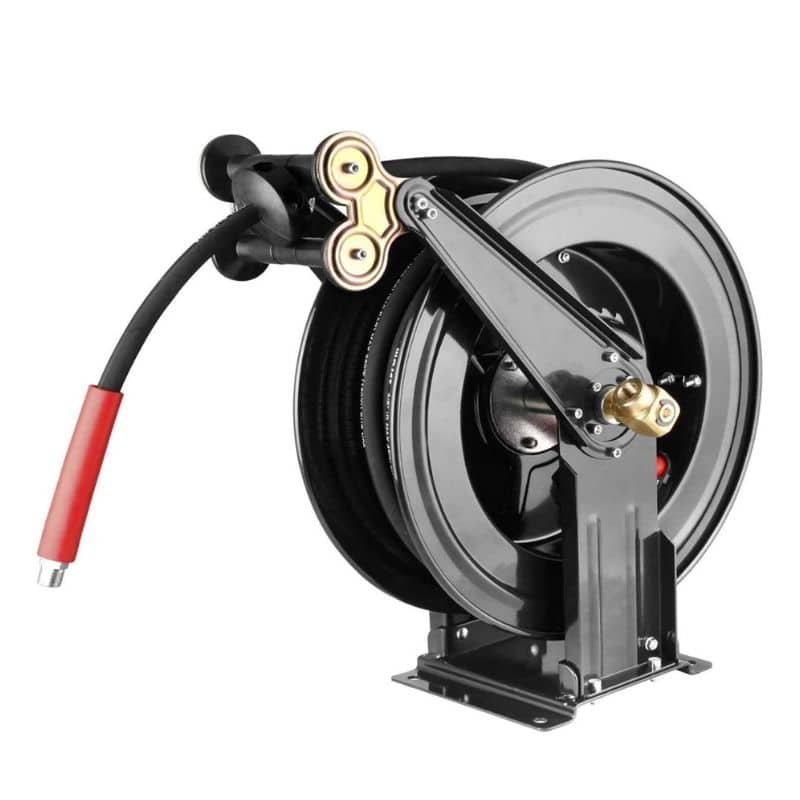 Self Rewind High Pressure Washer Hose Reel 4000PSI 50FT
hose reel for Φ10mm*15m hose or Φ8mm*20m hose
| | |
| --- | --- |
| Max Pressure: | 4000psi |
| Max Flow Rate: | 10.5 GPM |
| Max Temperature: | 300° F |
| Inlet: | 3/8" Male |
| Outlet: | 3/8" Female |
How to choose the right pressure washer hose reel?
A powerful pressure washer requires not only great cleaning power, but also a reliable reel to store and control the hose length.
When choosing a reel, there are several key factors to consider.
The first is the diameter and length of the hose. Most reels can accommodate 100 to 300 feet of hose, and the exact size will vary depending on the reel's diameter and length. Therefore, it is critical to select a reel that can accommodate the desired length of hose.
The next thing to consider is the PSI rating of the reel. Make sure the reel you choose is rated at least 1,000 PSI higher than the pressure washer output to ensure safe operation. For example, if your pressure washer is rated at 5,000 PSI, choose a reel that can handle 6,000 PSI. If you plan to use a hot water pressure washer, you will need to make sure the reel can withstand extreme temperatures. Therefore, it is essential to look for a hose reel made of stainless steel with layered enamel that can withstand water temperatures of up to 200°C.
Choosing a manual or retractable reel is also a question to consider. Manual crank reels are more suitable for cold and hot water stationary pressure washers, while retractable hose reels are slightly more expensive and can be spring driven or electrically operated to more easily control the length of the hose.
Finally, safety features are also one of the factors to consider. Locking pins and braking systems can prevent disconnection and rotation during transport and storage, as well as prevent accidents during work.
These features are best to have as standard, so that safe operation can be guaranteed. BISON's hose reels are not only versatile and functional, but they also match many of the pressure washer components and accessories on the market, making them a good choice for you.
Q: Is the ubber stopper adjustable?
A: Yes, the stopper can be adjusted. Just loose the screws of the stopper and move to the position you want and tight the screws again.
Q: Does this include a lead hose?
A: Yes, it include 60″ lead-in hose.
Q: Where can this product be installed?
A: It can be mounted on wall, ceiling and or floor mount.
CONTACT US TO KNOW MORE BISON PRESSURE WASHER