Bison High Pressure Washer Hose
High Pressure Washer Hose
Pressure Washer Hose is the important accessory to combine the high pressure washer machine with the high pressure washer gun.
Bison Machinery is one of the leading manufacture of pressure washer, sewer /drain jetting machine, high pressure pump and functional pressure washer accessories, with CE, Rohs, Euro5 certificated and patents more than 30. All metal parts are processed by precision processing equipment, and each one will be 100% inspected before leaving the factory.
We offer power washer hose for home using, steel braided rubber hose, non-marking steel braided rubber hose. They can meet your light duty and heavy duty working.
Contact BISON immediately to send a wholesale request. We will help you choose the best high pressure hose according to your needs. In addition, we also provide pictures, PDFs, videos, etc. to help you expand your business.
Bison is professional on Pressure Washer Accessory and always stand behind our products, please free to contact us if any questions.
High Pressure Washer Hose by BISON
2900PSI Single Layer Power Washer Hose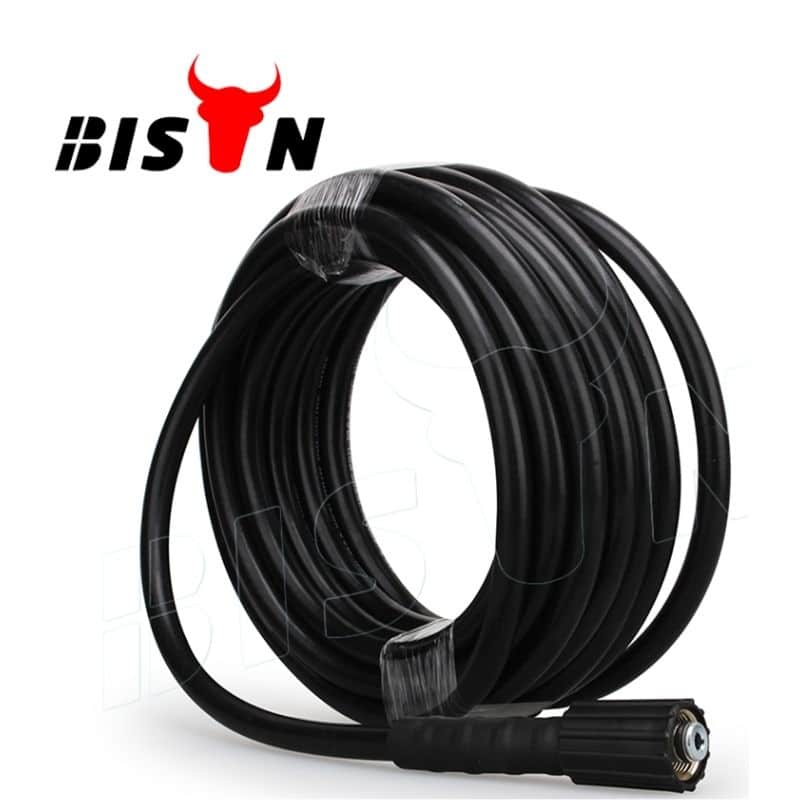 | | |
| --- | --- |
| Length (ft): | 6(m)/19(ft), 8(m)/25 (ft), 10(m)/33(ft), 15(m)/50(ft), 20(m)/66(ft), optional |
| Diameter (in/mm): | 0.25" / 6.4mm |
| Max. Working Pressure (PSI): | 3200 PSI |
| Burst Pressure(PSI): | 9000 PSI |
| Connectors: | Check Below, Optional |
| Color: | Black, Optional |
BISON Pressure Washer Hose Features
Professional grade

Includes adapters for connecting two hoses

Bend limiters at both ends

Kink wear-resistant

M22/14mm fittings easily attach to most pressure washers and spray guns

Compatible with pressure washers rated at 3200 PSI or less

Double-braid construction of steel over polyester provides strength and durability; the translucent polyurethane outer sheath is flexible, damage-free and up to 3 times more abrasion-resistant than rubber

The quick connect design and ability to withstand pressure up to 4500 PSI means this hose will work with most commercial and residential cold water pressure washers

Suitable for water temperatures up to 140 degrees Fahrenheit

4" bend protectors on both ends of the hose help extend the life of the fitting; the polyurethane outer sheath wipes clean easily

Easily connects to cleaning gun

Lightweight and easy to carry
These bulk pressure washer hoses replace worn or damaged hoses on pressure washers with operating pressures up to 3000 psi. The hose delivers pressurized water to loosen and remove dirt, grime, oil, grease and other substances from equipment and surfaces. The hose has a nitrile tube resistant to oils, solvents and aromatics. Their casings are made of oil-resistant synthetic rubber. Bulk hoses can be cut to desired lengths, and compatible hose fittings can be attached to the ends of the hoses to create unique hose assemblies.
Pressure washer hose buying guide
A pressure washer hose, also known as a power washer hose, connects to a compatible pressure washer to deliver a stream of pressurized water to loosen and remove dirt, grease, grime, oil, and other substances from surfaces and equipment. These high-pressure hoses are used for sanitation and cleaning tasks in various industries.
The world's leading manufacturers of high-pressure washers rely on the functionality of our semperit high-pressure washer hoses. They withstand operating pressures up to 500 bar and are highly resistant when used with cold and hot water (steam up to 155°C).
Go with the flow with the BISON 1/4" x 25' pressure washer hose. Reduce frustration and keep your cleaning projects on track with the hard-wearing rubber hose, which includes bend limiters on both ends to prevent kinks. The 25-foot pressure washer hose is compatible with gas and electric pressure washers rated at 3200 PSI or less. It's also straightforward to use. Connect the hose to your pressure washer and trusty gun, and you're ready to tackle any cleaning task. Get professional performance and powerful cleaning with the BISON 1/4" x 25' pressure washer hose.
High-pressure hoses take the brunt of the pressurized water they contain.
After so much use or misuse, they eventually wear out and must be replaced. We recommend using a replacement hose that can handle the pressure. The durable material in these hoses won't kink and curl like regular garden hoses.
There are four things to consider when choosing a replacement hose:
Length: This will help you decide how portable your pressure washer is.
Diameter: Diameter is tricky. The hose is available in three widths: 1/4 ", 5/16", and 3/8".
Material: This will determine how flexible you want the hose to be.
Connections: Will you be twisting or snapping the hose connections together?
a) Length
Are you washing in the driveway or around the entire house? Is your pressure washer electric and needs to be near an outlet? Do you need to clean the second floor? Choosing the correct length for your hose can mean the difference between transporting your unit around the job site and simply walking freely to where you need to work.
b) Diameter
Small (1/4") hoses are the most common. They are designed for consumer-grade electric and small gas power washers rated up to 3,200 psi.
Medium (5/16") hoses are the least common. They are rated for 2,700-3,600 psi pressure for consumer-grade air washers.
Large (3/8") hoses are designed for all professional models and some professional consumer-grade pressure washers. These hoses can handle severe water pressure up to 10,000 psi. Plus, they are thicker to allow for greater water volume, which means more gallons per minute.
c) Material
High-pressure hoses are made of three materials: PVC plastic, rubber and polyurethane. Choosing a hose material will determine how flexible and durable they are and whether they mark your driveway or deck.
PVC plastic hose is the most common. These stiff plastic hoses will do the job, but they're not very flexible. If you're frustrated with using a hose, consider upgrading to rubber or polyurethane.
Rubber hoses are heavier and more flexible than regular plastic hoses. They don't kink and curl as often. But rubber hose tends to leave black streaks on the surface you're working on when you slide it over concrete.
Polyurethane hose is relatively new on the market. A transparent, bendable plastic shell covers the braided wire hose. Professionals love these hoses because they have the flexibility of rubber without breaking.
d) Connection
Each hose has two connections: one to the pump and the spray gun. There are only two ways to attach the hoses to the pump: screw them together or snap them together.
You can connect the hose to the gun in several ways: Male M22, Female M22, Male QC Plug, Female QC Plug, and Female 3/8" NPT. Take a good look at the ports on your gun. Most have a protruding threaded male fitting, but some are female, and some are quick-connect plugs.
You can purchase a generic replacement hose with two M22 threaded (female) fittings if your gun has external threads. One end screws into the pump, and the other into the spray gun.
If your spray gun has a male quick-connect plug, you must purchase a professional-grade hose with a 3/8" female snap fitting.
Pressure Washer Hose FAQs
Are pressure washer hoses universal?
The gas model is pretty generic. Still, if you're looking for a new gun, a new hose, or you're looking to incorporate a quick coupler, your best bet is to stick with the same brand and make sure the product you choose is compatible with the pressure washer model you have.
What is an M22 hose fitting?
The connector easily screws into an M22 x 14mm hose fitting and converts a female end to a male end. The M-22 hose-to-hose coupler can expand your cleaning range by connecting two hoses. The male x male connector is compatible with gas and electric pressure washers rated at 4500 PSI or less.
Are pressure washer hoses repairable?
While there are ways to repair a hose with the right tools and experience, it is not recommended. Replacing your hose is affordable, and the peace of mind of knowing a hose won't burst and hurt you is well worth the investment.
Why is the pressure washer hose leaking?
There is a gasket on each side of the water supply hose. These two washers may become loose over time. If the water supply hose leaks, you may need to replace the gasket. Check the connection between any extension hoses and the washer drain hose.
CONTACT US TO KNOW MORE BISON PRESSURE WASHER