Industrial Pressure Cleaners
Bison Industrial Pressure Washers
Industry pressure washer or Industrial water pressure washers are used for tough and powerful professional pressure washing services. Commercial pressure washers are typically more powerful and rugged than residential household cleaners. Industrial high pressure cleaners have higher PSI and GPM for more effective cleaning of stubborn stains and debris, and larger water and fuel tanks to provide longer run times. 
Taizhou BISON Machinery CO,Ltd is one of the china best pressure washer manufacturers, supply high pressure cleaner accessories in China. BISON industrial offers a full range of industrial high pressure cleaners such as gasoline industrial pressure washers, diesel industrial high pressure cleaners, and electric industrial high pressure cleaners. All BISON customers will be provided with high quality high pressure washers as well as professional purchasing advice.
Contact BISON today to send a wholesale request. Whatsapp us, tell us what you want to clean and we will provide you with the best solution. In addition, we offer pictures, PDFs, videos and more to help you expand your commercial power washing business.
Gasoline Industrial Pressure Washer by BISON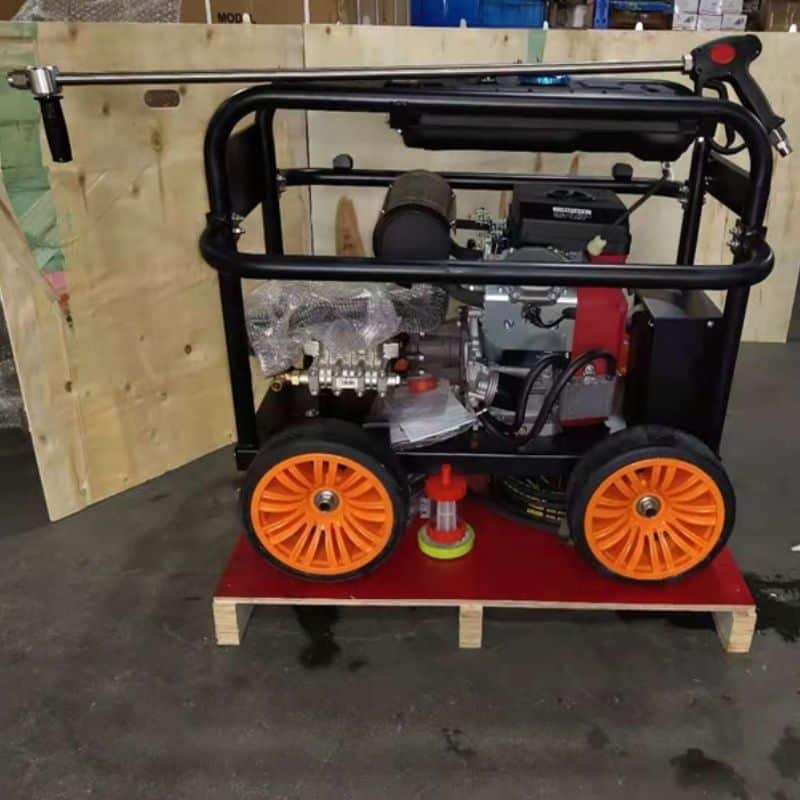 350-500Bar Gasoline High Pressure Washer
| | |
| --- | --- |
| Driven Type: | Gasoline engine driven |
| Engine Output: | 22 HP/ 680cc |
| Pump Model: | AR Pump |
| Pressure: | 350-500 bar |
| Flow Rate: | 15-21 lpm |
| Warranty: | 1 Year |
| Certification: | CE, EURO V, EPA, UL |
Diesel Heavy Duty High Pressure Washer by BISON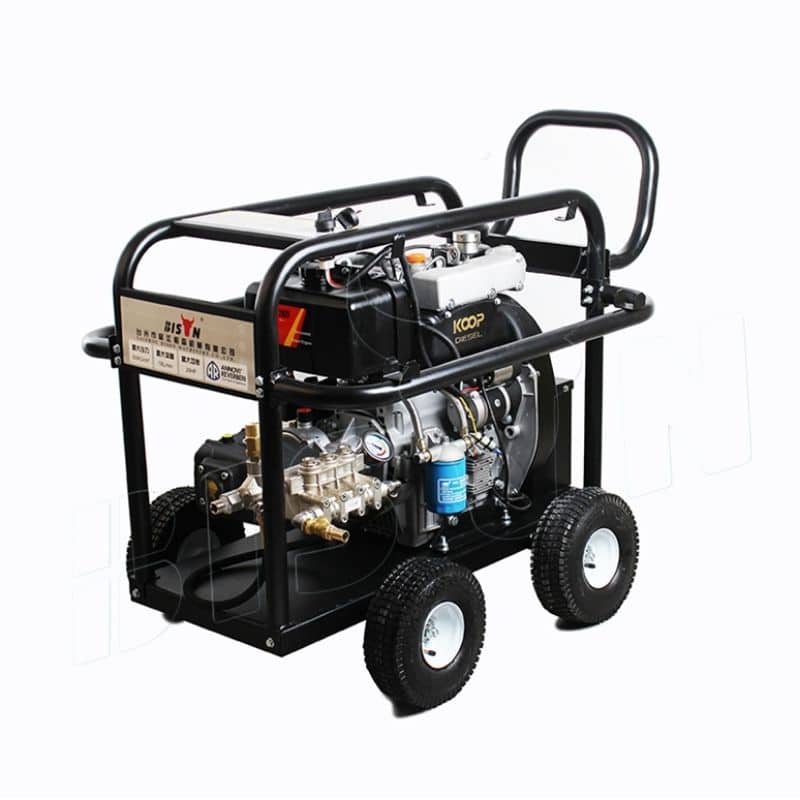 350-500Bar Industry Diesel High Pressure Washer
| | |
| --- | --- |
| Driven Type: | Diesel engine driven |
| Engine Output: | 27 HP/ 836cc |
| Pump Model: | AR Pump |
| Pressure: | 350-500 bar |
| Flow Rate: | 15-21 lpm |
| Warranty: | 1 Year |
| Certification: | CE, EURO V, EPA, UL |
Industrial Electric High Pressure Washer by BISON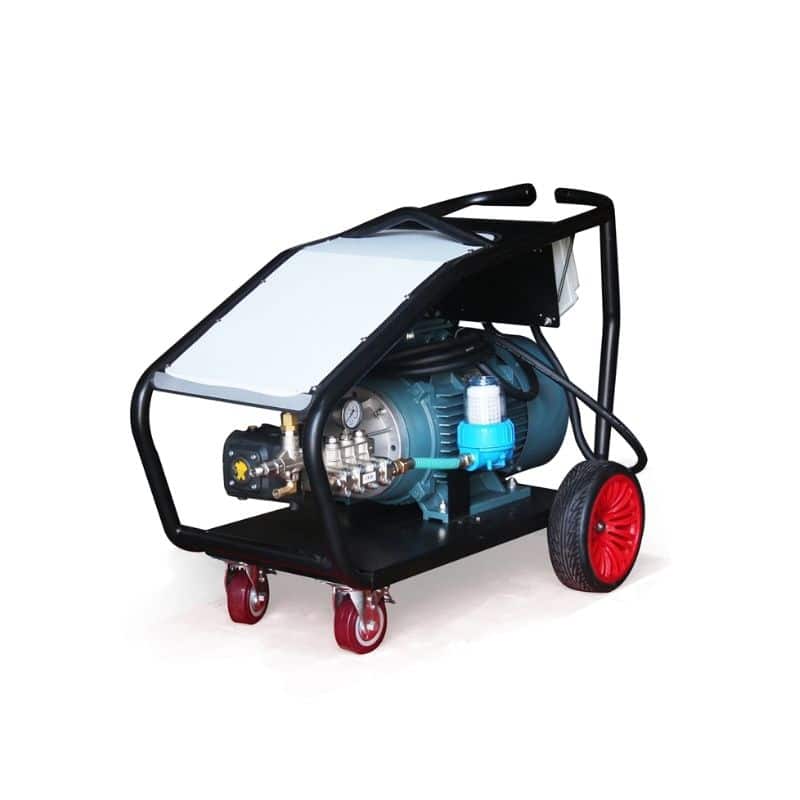 11-22kw Commercial Cold Water Electric Pressure Washer For Marine Sands Blasting Construction Cleaning
| | |
| --- | --- |
| Driven Type: | Electric Ac Motor |
| Motor Power: | 11-22KW |
| Pump Model: | AR Pump |
| Pressure: | 300-500 bar |
| Flow Rate: | 18-22 lpm |
| Warranty: | 1 Year |
| Certification: | CE, EURO V, EPA, UL |
Pressure Washer Accessories
At BISON–China Pressure Washer Manufacturer, we understand the importance of industrial pressure washers in assiting pressure washing business in sanitizing machinery parts, tools, equipment, building surfaces, and much more. With various types available on the market, choosing the right pressure washer for your specific project can be a challenge. China Bison, leading pressure washers manufacturer will provide insight into the application of industrial pressure washers and help you determine the best type suited for your unique cleaning needs.
Components of an Industry High-Pressure Washer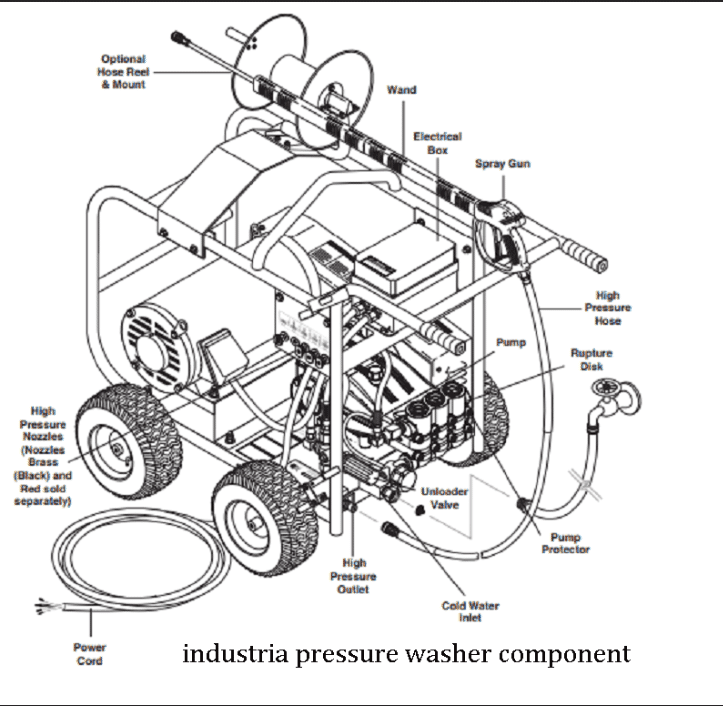 Engine or Motor: The heart of the high-pressure washer, the engine or motor, provides the power necessary to drive the machine. China Bison, as a renowned pressure washer company, incorporates robust engines or motors in their washers, ensuring reliable performance and longevity.

Pump System: The pump system is responsible for generating high-pressure water flow. China Bison's high-pressure washers feature durable pumps, precision-engineered to deliver consistent and powerful pressure. These pumps, along with meticulously designed valves and seals, guarantee optimal performance and reliability.

High-Pressure Hose and Wand: China Bison's pressure washers are equipped with high-pressure hoses and wands that effectively transport water from the pump to the cleaning surface. These components, manufactured with top-quality materials, ensure durability and withstand high-pressure operation.

Nozzles and Tips: As a leading pressure washer company, China Bison provides a range of interchangeable nozzles and tips to optimize cleaning performance. These precision-engineered nozzles allow users to adjust the spray pattern and pressure intensity, offering versatility for various applications.
How does a Industry high pressure washer work?
Industrial high pressure cleaning machine is a pressure washer jet machine. It uses a high-pressure reciprocating plunger pump to produce high-pressure water jets to remove mold, loose paint, dirt, dust, dirt and dirt on surfaces and objects such as buildings, vehicles and concrete roads. Industrial high pressure cleaners play an important role in heavy industry because it helps to improve the production capacity and efficiency of industrial equipment.
Water Intake: The pressure washer is connected to a water source, which can be a garden hose or a dedicated water supply. The water is drawn into the machine through an intake valve.
Pressure Buildup: The engine or motor powers the pump system, which pressurizes the water. The pump forces the water through a small orifice, creating a high-pressure stream.
Flow Regulation: The high-pressure washer incorporcates various valves and regulators to control the flow of water and maintain consistent pressure. These components ensure optiomal performance and prevent damage to the machine.
Spray Wand Operation: The operator holds the spray wand, which is connected to the high-pressure hose. By activating the trigger on the spray wand, the pressurized water is released in a controlled manner. The operator can adjust the spray pattern and pressure intensity by selecting different nozzles or adjusting the nozzle setting.
Cleaning Efficiency: The high-pressure water jet expelled from the nozzle effectively removes dirt, grime, and other contaminants from surfaces. The combination of pressure and water flow provides a thorough and efficient cleaning method for a wide range of applications.
Choosing the Right Industrial Pressure Washer
Before you settle on a pressure washer, you'll need to consider your application to find one that matches the type of cleaning that your project requires. Determine if you are planning to:
Remove general dirt, scale, and deposits: For cleaning surfaces like floors, walls, decking, or sidewalks of general dirt debris that does not contain oil and grease, a cold water pressure washer can handle the job efficiently. Determine the size of the area you will be cleaning and the time in which you'll need to finish the job to select a pressure washer of the correct size, gallons-per-minute (GPM) flow rate, and pounds-per-square-inch (PSI) pressure capacities.
Remove grime: To get rid of grime, or dirt mixed up with oil and grease, then a hot water pressure washer model is ideal. The appropriate size and GPM and PSI ratings will largely depend once again on the amount of time you have to complete the cleaning, as well as the complexity of the job itself, as larger equipment better handles difficult cleans.
Sanitize surfaces: Hot water pressure washers or steam models utilizing hot water and vapor are suitable for sanitation-related cleaning and removing bacteria and viruses. Steam systems often improve overall cleaning speed for higher levels of efficiency.
Pressure washers also come in compact, highly mobile configurations as well as stationary models. As the right pressure washer is one that fits your specific application, if you are still unsure of which type or size you need, it is best to reach out to professionals to select the ideal washing system.
Industrial Pressure Washers From China Bison Pressure Washer Manufacturer
China Bison Pressure Washer Manufacturer is a leader in developing cutting-edge techniques in pressure cleaning. Our success stems from our consistency in providing superior, durable industrial pressure washers and unparalleled customer support and service. Our collection of industrial pressure washers is available in numerous power and fuel options for washer types including:
Cold water industry pressure washers,
Hot water industry presssure washers,
We also provide custom pressure washers to fit any application if you can't find a standard model that suits your needs. To best serve our customers, China Bison Pressure Washer Manufacturer maintains a network of local locations for services near you.
In addition to producing high quality equipment backed by years of experience, the Chinese manufacturer of Bison high-pressure cleaners also puts customer satisfaction at the forefront, which is why we have customers in 54 countries around the world. We design solutions that meet both our quality standards and the expectations and specifications of our customers.
If you still have questions about which pressure washer from our product catalog would be best for your specific application, or if you're interested in our consulting and custom design services, contact us today and our dedicated team will be happy to help
Industry High Pressure Washer Application
1. Sports field
For safety reasons, hard sports fields-especially tennis and basketball courts-are cleaned with surface cleaners driven by bulky industrial electric washing machines. This work requires a large area of surface cleaner to complete in time.
2. Building
Building exterior walls (walls and ceilings) are probably the most common working area of commercial pressure cleaners. Such as the graffiti above.
3. Industrial facilities
For example, heavy equipment on the farm or job site, construction and heavy duty machinery and equipment.
4. large flat areas
For example, parking lots, shopping mall parking lots, pedestrian areas and other areas around facilities. Very common work mobile electric washing machine will see.
5. Boat and vessels
Remove stubborn stains or patches of rust, or to strip paint.
6. Restaurant equipment
The cooker hood in the restaurant kitchen is an annoying thing. They can be difficult to clean and will eventually become very dirty.
7. Surrounding the building
Look at how dirty the entrance to the office building is in the picture. Crazy negligence. Dirty areas like this are dangerous and become slippery when wet.
8. City sidewalk
Urban sidewalks with heavy traffic are popular uses for high-power washing machines, and dumpsters and surrounding areas, too.
In addition to cleaning parts for maintenance, industrial washers can clean manufactured products before packaging and shipment. Manufacturing plants use these washers to clean goods made of rubber, fabricated metal, and plastic. Pressure washing systems also have varied production applications for industrial sectors like food processing, where there's a constant need to clean and sanitize all tools, equipment, and conveyors with food contact-related tasks. To best achieve versatile uses, industrial pressure washers are available in more than one type.
Advantages And Features of Industrial High Pressure Washer
Compact Design And Better Performance
Industrial high pressure washers are compact design and easy-to-use control devices, installed in durable glass fiber or stainless steel covers, and installed on the stove's painted wear-resistant chassis and solid tire frame. This includes self-priming pumps with heavy-duty fiber seals, brass cylinder heads and components. Wear-resistant nylon valve and stainless steel seat provide various pressure, flow and performance options.
Better And Durable Accessories
Commercial pressure washers have better engines, better pumps, and better components everywhere. They avoid using plastic. They are equipped with high-grade hoses, stainless steel spray guns and brass connectors.
Heavy Duty Grade Brass Forged Triplex Pump
Direct Drive, Built With Detergent Injector, Thermal Protection, Safety Pressure Relief And Pressure Gauge.
Solid Plastic Tires
Wear and Shock resistant, easy to move, secured with anti-loos nuts. The wheels do not need to be removed when packing and transporting.
5000PSI Hot Water Dual Lance High Pressure Gun Assembly
Hot water grade heavy-duty trigger valve gun, with brass valve and stainless steel connection tube, PA reinforced housing and safety lock. Brass High-low switch valve with handle for quick changeover and better holding, 20 inch insulated stainless steel dual lance.
Steel Braided High Pressure Hose
Hot water resistant, heavy-duty steel wire braided, cover with NON-MARKING rubberized fabric. Bursting pressure 4: 1 of rated working pressure. 3/8"QD fitting. Length available for 10m, 15m, 20m.
China Bison, a trusted pressure washer company, manufactures industry high-pressure washers that incorporate key components and advanced mechanisms to deliver powerful cleaning performance. By understanding the functionality of these machines, users can maximize their efficiency and achieve exceptional cleaning results. As a leading pressure washer manufacturer, China Bison remains committed to producing top-quality machines that meet the diverse needs of customers in various industries.
All BISON industrial water power washer are functionally tested in the factory; comply with CE, EURO V, CARB, EPA certification; backed by a 1-year limited service.
Electric Industrial Pressure Washer VS Gas/ Diesel Industrial High Pressure Washer
Which is better?
Electric. If you always perform high-pressure cleaning near a power outlet (for example, in a warehouse or factory), please keep the power on. It requires less maintenance, is quieter, and you can use it safely indoors. You don't have to worry about cheering. The disadvantage is that the acquisition cost of cleaning ability is relatively high.
Gas or diesel engine powered. If you want maximum portability, you have to go for it. Therefore, if you are a mobile contract cleaner, petrol or diesel one will be more practical because you don't have to enter the customer's house/institution to find a power outlet.
CONTACT US TO KNOW MORE BISON PRESSURE WASHER