Gasoline Pressure Washers
Manufacturer
Gasoline pressure washer is a tool, its core components are gas powered engine and high pressure washer pump. Companies and customers use pressure washers to reduce allergies, minimize hazards, and improve aesthetics.
Petrol pressure washer is used to clean the surface. It uses high pressure water jets to remove loose paint, mold, dirt, dust, gum and dirt on surfaces and objects such as buildings, vehicles and concrete surfaces, and clean drains, roofs, decks, sidewalks, patios, driveways, and siding, parking lot, cladding.
At present, high pressure cleaning is more and more favored by people, and the trend of discussing high pressure cleaner is gradually increasing. As a high pressure washer, gasoline powered pressure washer can work anywhere, with high power and convenience. It is emerged with the rapid development of industry technology.
BISON suppliers provide different styles and shapes of gasoline high pressure washers, please see below for details. Start your pressure washing business now.
Bison Gasoline High Pressure Washer
Start Your Pressure Washing Business From Bison
Advantages and Features of Gasoline Pressure Washer
Gasoline Pressure Washer Application
What do you use a gasoline powered pressure washer for? Here are some important usages of high pressure washer:
Wash bicycles, motorcycles, cars, trucks, trailers, tractors, boats, etc.
Clean driveways, garage floors, sheds, fences, fences, etc.
Clean outdoor play equipment, such as slides and swings.
Clean outdoor furniture, garden furniture.
Clean smelly wheeled trash cans.
Clean kennels/kennels, chicken houses, etc.
Clean various equipment, such as lawn mowers, mountain bikes, trailers, grills, go-karts, etc.
Clean concrete or tiled terraces.
Clean up the sewer.
Clean the main entrance stairs, walkways, wooden decks, house siding and brick houses.
BISON - Gasoline Pressure Washer Manufacturer in China
Who makes the best gas pressure washers?
Founded in 2015, Taizhou BISON is a China pressure washer factory integrating design, manufacturing, wholesale, importing and exporting services. BISON is now one of the world's fastest-growing brand manufacturers of high pressure washer and high pressure washer accessories.
We specialize in the production of various pressure washer machine, including gas powered pressure washer, diesel powered pressure washer, electric pressure washer, hot water pressure washer, cordless pressure washer, etc. Because of its unparalleled reliability, it is deeply trusted by professionals and users at home and abroad.
Using professional knowledge and high quality sturdy materials, BISON high pressure jet cleaners always operate as required. Relying on professional jet washer manufacturing experience, strong technical research and development strength, advanced equipment advantages, first-class after-sales service, perfect management system, and continuous innovation. BISON factory has created a series of high pressure water cleaner with excellent performance, high quality and reasonable price. BISON powerful jet pressure washer comes with all the accessories, so you have everything you need to complete all kinds of cleaning tasks.
Contact BISON immediately to send a wholesale request. We will help you choose the best gasoline powered pressure washer according to your needs. In addition, we also provide pictures, PDFs, videos, etc. to help you expand your business.
Petrol Pressure Washers / Gas Pressure Washers Guide
How does a petrol pressure washer work?
Petrol pressure washer has a gas-fueled engine which powers a high pressure washer pump.
High pressure cleaners use narrow high-pressure hot or cold water jets to remove dirt. Because of the fast water flow, it hits the dirty surface with high kinetic energy, beating dust and dirt like a small hammer.
The gas power washer power pump converts ordinary water into high-pressure and low-flow water through the process of sucking and discharging water, and then delivers it to the pressure washer hose. The end of the hose is pressure washer gun , which looks similar to the pressure gun used in car washing . When the trigger is pulled, the water mixes with air to reach the pressure washer jet nozzle with a certain amount of energy. The aperture of the high pressure washer nozzle is much smaller than the diameter of the power washer hoses, so the water reaching the pressure washer nozzle must be accelerated through the nozzle. In this way, the nozzle can convert high-pressure, low-flow water into a low-pressure, high-flow jet.
What's a real pressure washer pump like inside?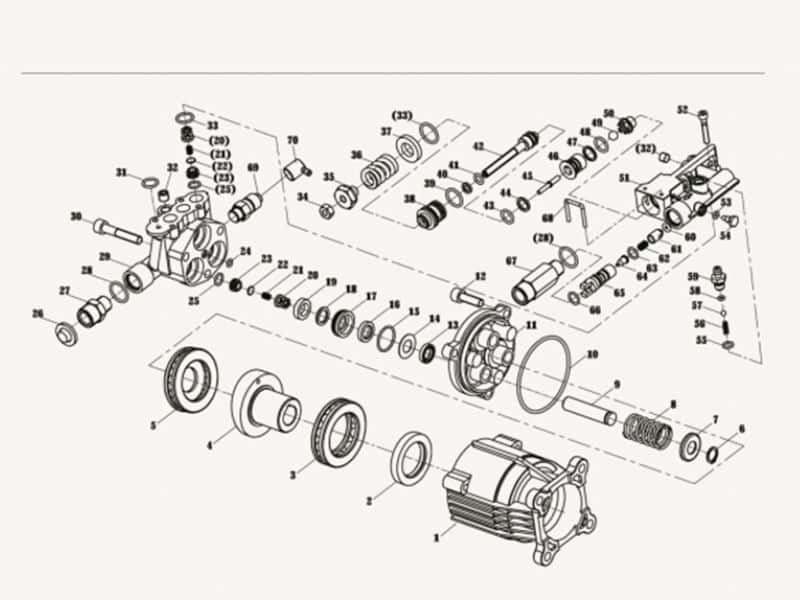 ~Pump Chamber(1): This is the chamber where water is pumped to high pressure;
~Pump Piston(11): They move back and forth (reciprocates) to convert the water to a high-pressure jet
~Pump Valves(29): Control the direction of the water to make the water move in one direction. There are 6 valves in each pump
How to choose a petrol power washer?
Before you start, determine which type of gasoline pressure washer is right for you based on your job.
High pressure washer is measured in cleaning units, gallons per minute, and psi. GPM is the water flow measured in gallons per square inch, and psi is the water pressure measured in pounds per square inch.
Entry-level Household High Pressure Cleaner
Lightweight portable pressure washer models usually have a PSI below 1800 and can be used for small jobs such as washing cars, boats, and cleaning patio furniture.
Semi-professional DIY Gasoline Powered Pressure Washer
The next step is to use medium-sized water pressure washer machines with a PSI between 2,000 and 2,800. These power washing cleaners are very useful if you want to clean the siding of the house, remove dirt from the fence or clean the mold on the deck.
Commercial-grade Professional Pressure Washer
Heavy-duty high pressure cleaner with pressures exceeding 2,800 PSI are used to handle the largest and most difficult tasks, such as preparing paint booths, cleaning driveways, and cleaning exterior walls.
How to use a pressure cleaner?
Download the jet wash machine operator's manual or power washer cleaner exploded view for your BISON engine or equipment by following our step-by-step process.
(Petrol Power Washer Manuals)
How to maintain gas pressure washer?
What Cause Petrol Power Washer Failure? And How to repair a petrol washer? Below is the common FAQs.
Regular Cleaning: After each use, thoroughly clean the pressure washer to remove any dirt, debris, or residue. Pay attention to the nozzle, wand, and intake screens. This helps prevent clogging and ensures optimal performance.

Check Oil Levels: Gas pressure washers have an engine that requires regular oil checks. Before each use, check the oil level and add more if necessary. Refer to the manufacturer's instructions for the specific oil type and change intervals.

Fuel Management: Use fresh, clean fuel and make sure the gas tank is properly sealed to prevent contamination. If the pressure washer will not be used for an extended period, consider using a fuel stabilizer to prevent fuel degradation.

Air Filter Maintenance: Inspect and clean the air filter regularly. A clogged air filter can affect engine performance. Clean it according to the manufacturer's guidelines or replace it if necessary.

Spark Plug Maintenance: Check the spark plug periodically and clean or replace it as needed. A worn or dirty spark plug can lead to starting issues or reduced engine performance.

Storage Considerations: Properly store the pressure washer in a clean, dry location. Protect it from extreme temperatures, moisture, and dust. Use a cover if necessary to prevent any damage or corrosion.
Pump Troubleshooting: If you experience pump-related issues, here are some common troubleshooting steps:
Fluctuating pressure
Pump sucking in air: Check connection are tight; Valves dirty, won out or seized: Contact customer helpline; Blocked jet: Remove blockage using jet cleaning tool
Water leakage from pump; Seals worn out: Contact customer helpline
The pump does not reach the required pressure
Pump sucking in air from connections or hose: Checking tightness of all connections
Suction/delivery valves are clogged: Clear or replace valves. Have machine checked by Service Centre
Unload valves are stuck: Loosen and re-tighten regulating screw
Lance or nozzle worn out: Check and/or replace
Pump is running but no water delivery
Kinked inlet and or pressure hose: Check, straighten and replace if required
Blocked inlet filter: Remove and clean filter
Blocked jet: Remove blockage using the jet cleaning tool
Remember, always prioritize safety when performing maintenance tasks and follow the manufacturer's guidelines for your specific gas pressure washer model.
CONTACT US TO KNOW MORE BISON PRESSURE WASHER